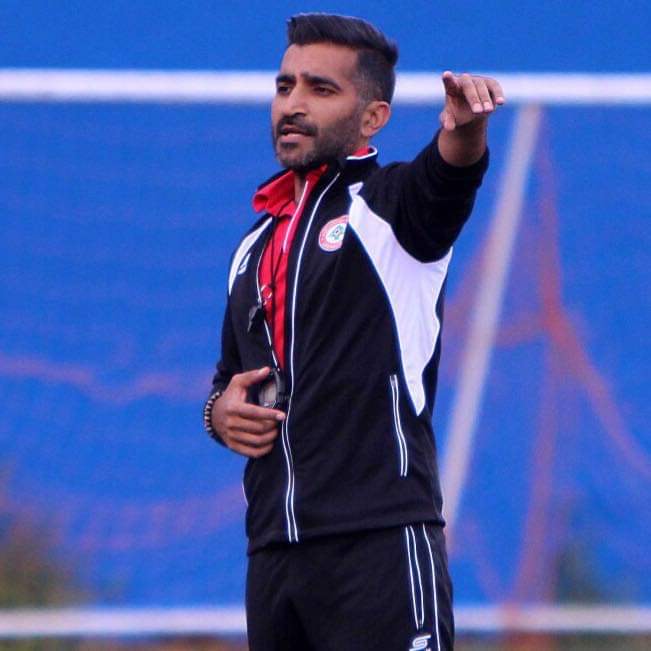 These are bleak times for Lebanon and football is no exception. However, women's football may just be able to provide the hope and joy that the Lebanese people desperately need. In the last couple of months, Lebanon's U-15s and U-18s both won the West Asian Championship and senior National Team head coach Wael Gharzeddine believes this is just the beginning.
After all, Women's football in Lebanon is still in its infancy. The women's league began in 2008 and the National Team only returned to action in 2018 after a three-year absence with Wael Gharzeddine at the helm. But in this time, they have come a long way.
Participation has increased dramatically, particularly since the FA began providing funding to make it easier for clubs to participate. The return of the National Team has also had a big impact: young girls are now dreaming of playing for their country, and even parents are encouraging their girls to get involved.
Wael Gharzeddine – one of the leaders of this exciting project – is one of Lebanon's most experienced coaches, having begun his career in Australia, before going to Brazil where he coached in the youth teams of Atletico Mineiro (where he coached a young Bernard, today at Everton in the English Premier League) and Fluminense, where he was able to learn from ex-Real Madrid manager Vanderlei Luzemburgo at the former. He then went to Spain, where he coached at third-tier side UE Cornella and even spent time at FC Barcelona and Chelsea. One day he stumbled upon Lebanese women's football and hasn't looked back.
"In 2012 I came to Lebanon to scout players for UE Cornella and I saw women's football and I saw how talented these girls are and felt there is room to invest and develop. When I started coaching women here, I realized that they are desperate to learn and they are very dedicated and that gave me more motivation to continue working in the women's game".
A long-term project focusing on youth
Gharzeddine approached the National Team job with a step-by-step process. "When we first started with the national team, we saw that they are not up to the level to compete yet. Most of these girls, upon entering football, went straight into competitive football, where coaches prioritise winning. It's a completely different philosophy when you go and develop someone at the academy level. So some of these girls had missed the crucial development phase and the first year we focused on teaching them the basic skills."
"Then, we needed to make a plan to prepare a national team that can compete in the long-term. Therefore, we decided to choose talent regardless of age and our U-19 team in 2018 had an average age of 17. Our aim for the 2018 U-18 West Asian Championship, which we hosted, was to prepare for the upcoming Asian qualifiers. Our aim was, of course, to try to win but we had a more important goal in mind: to make sure these girls understand the system and understand the need to play our football even if it's going to cost us a game. And this is what happened: we lost against Jordan conceding the decisive goal by trying to play out from the back. But we told the girls that we lose the right way and we win the right way."
Lebanon finished the tournament as runners-up, before then participating in the qualifiers for the U-19 AFC Championship. The qualifiers also took place in Lebanon, with the Cedars beating Hong Kong and Mongolia and only narrowly losing to Australia to become the first Arab team to proceed to the second round. They followed on from that with the senior West Asian Championship at the beginning of last year before the second round of the U-19 qualifiers in April. All of these campaigns were led by Wael Gharzeddine, who prioritised the philosophy and the development of his players over results throughout these different competitions.
"We promoted 17 girls from that U-19 side to the senior team, allowing them to participate in 5 campaigns across the various age categories, playing around 15 international games in total. We went to Bahrain playing the Women's West Asian Championship with an average age of 18.9 comparing to Jordan's (winners of the competition) which was 28. That was a great experience for our young girls and we performed very well and tried to play good football."
Gharzeddine and his coaching staff worked with the same group of players across these two age categories which helped in the implementation of their philosophy and the girls benefitted from a lot of game time and tournament experience. However, Gharzeddine believes the most important experience was the Second Round of the U-19 AFC Qualifiers.
"When the girls went to Vietnam, they experienced a big difference in level." After all, South Korea, Vietnam and Iran have resources and infrastructure that cannot be compared to Lebanon's, and the sheer number of players at their disposal is much higher. "The pool of talent in Korea is more than 3000 so you are choosing your best from 3000 girls whereas we are choosing from 50 or 60."
But Gharzeddine and his staff are not looking for excuses. On the contrary, they used this experience to identify where they needed to improve in order to make up these differences. "We asked ourselves: what are we missing from a technical and physical perspective? Forget about funds and facilities, what are the small details that make the difference and what are the steps needed from us individually as players to try and come closer to this level?"
And it wasn't only the coaches who came back from that trip asking questions of themselves. Upon their return, most of the girls started to have their own personal trainer and were doing individual functional training twice or three times a week. "All these players worked very hard on themselves (…) because they have a dream to make it to the highest level. And why not? What do the funds bring you? Funds bring you more facilities and more training. Since we don't have that let's take it upon ourselves [to get better]. The girls also began educating themselves regarding their lifestyle: what they need to eat, how they need to prepare mentally for the game, how to visualize, how to set goals for themselves before a game, how to deal under pressure."
As a matter of fact, Gharzeddine highlighted the psychological aspect and how a big part of the recent successes of the U-15s and U-18s was down to their ability to cope with high-pressure situations. He also praised the coaching staff of these two winning teams, who did remarkably well to manage the situation in the country, which was making it hard to train ahead of these tournaments.
Lebanon: an emerging regional power in Women's football
With the recent success and the social media attention it has attracted, Lebanon seems to be taking the lead in the region. This is largely down to the work being done by the Federation, which is investing a lot of effort into promoting the women's game.
"In addition to helping out with funding, we have one of the best league structures in the region, if not in Asia. This year we will have a U-15 league, a U-17 league, a U-19 league and a Senior league."
And a big advantage for Lebanon over its rivals is the fact that a lot of the young girls coming through will be playing across several age categories, sometimes from U-15 all the way up to senior level, meaning that they are getting a lot of game time and picking up valuable experience from a young age.
"There is a plan in place now with a vision aimed at developing the game further for it to reach its full potential. This includes making the league more competitive, a long-term plan for the national teams as well as important work on coaching education".
Gharzeddine also praised the role of the clubs, who are also working very hard in order to continuously improve.
"What's making the women's game successful is that you have passionate people who understand football and have a football background leading the clubs and they are trying to build women's football. The right management will give you good results"
Gharzeddine did not hesitate to highlight the differences with the men's game in this regard, explaining that this is the main reason why Lebanon is seeing considerably more success in women's football.
"In the women's game, the clubs are organised and they look to provide the girls with the best environment to develop. Most of these clubs live like a family, and this gives the girls some sort of safety and puts them in their comfort zone. Meanwhile, in the men's game, some of these clubs are run at an emotional level and make emotional decisions instead of logical, professional decisions. It is this lack of professionalism that has kept me away from the men's game in Lebanon".
"In women's football, the girls do it because they love it and they are therefore willing to invest in their development. As a result of this, they are more disciplined and more eager to learn. I always say: they are inspired and they inspire you." Gharzeddine also admitted that the small gap in level among the teams in the region helps as it means that the girls feel that their goals are achievable.
A very bright future ahead
"We are one of the best in the region", says Gharzeddine. Indeed, the amount of talent emerging from these young generations of Lebanese girls is already showing on the big stage. With the u-15s, who won the West Asian Championships scoring 14 goals in just three games and conceding none, Amineh Karime won the award for player of the tournament while Christy Maalouf finished the competition as top scorer. Meanwhile, the u19s won their edition of the tournament scoring 17 goals and conceding 3 from their five games, with star striker Lili Iskandar (seen above) scoring the most goals, some of which were of the highest quality. And yet, Gharzeddine believes that the best talent has yet to emerge.
"The federation, the technical staff, even the clubs are working on talent identification. We are scouting talents from as young as 8 years old and keeping track of them. The golden generation is yet to come".
As for the current players, Gharzeddine believes that the sky is the limit. "How far can these girls go? It depends on their will to make sacrifices, their desire to work hard, train, go forward. Nothing is impossible."
Some of these girls will now have ambitions of playing abroad and Gharzeddine is fully confident that they have what it takes to achieve that.
"Nancy (Tchaylian) went and played in the UEFA Champions League and was one of the best in her team and this has inspired other girls to work as hard as Nancy. If some of these young players continue working like they are now, they are capable of going to play at a good level abroad".
Another thing that could see Lebanon improve is the integration of diaspora players to strengthen the National Team, particularly after the success of the foreign-based players in the men's team. One benefit to that would be the effect on the mentality of the local players.
"The main weakness we need to work on is our mentality and emotional intelligence, how to deal with situations whether in life or in football. Knowing how to control your emotions will help you to express yourself better on the pitch and will bring the best out of you. This difference in culture is the major difference I have noticed between Lebanon and the other countries I coached in."
Hope is hard to come by for Lebanese football fans, but these girls are breaking down all sorts of barriers.
"I'm very optimistic. Obviously, our challenge is way harder now because expectations are higher so we have to double our efforts. But this is just the beginning. Honestly speaking I consider that the best is yet to come."