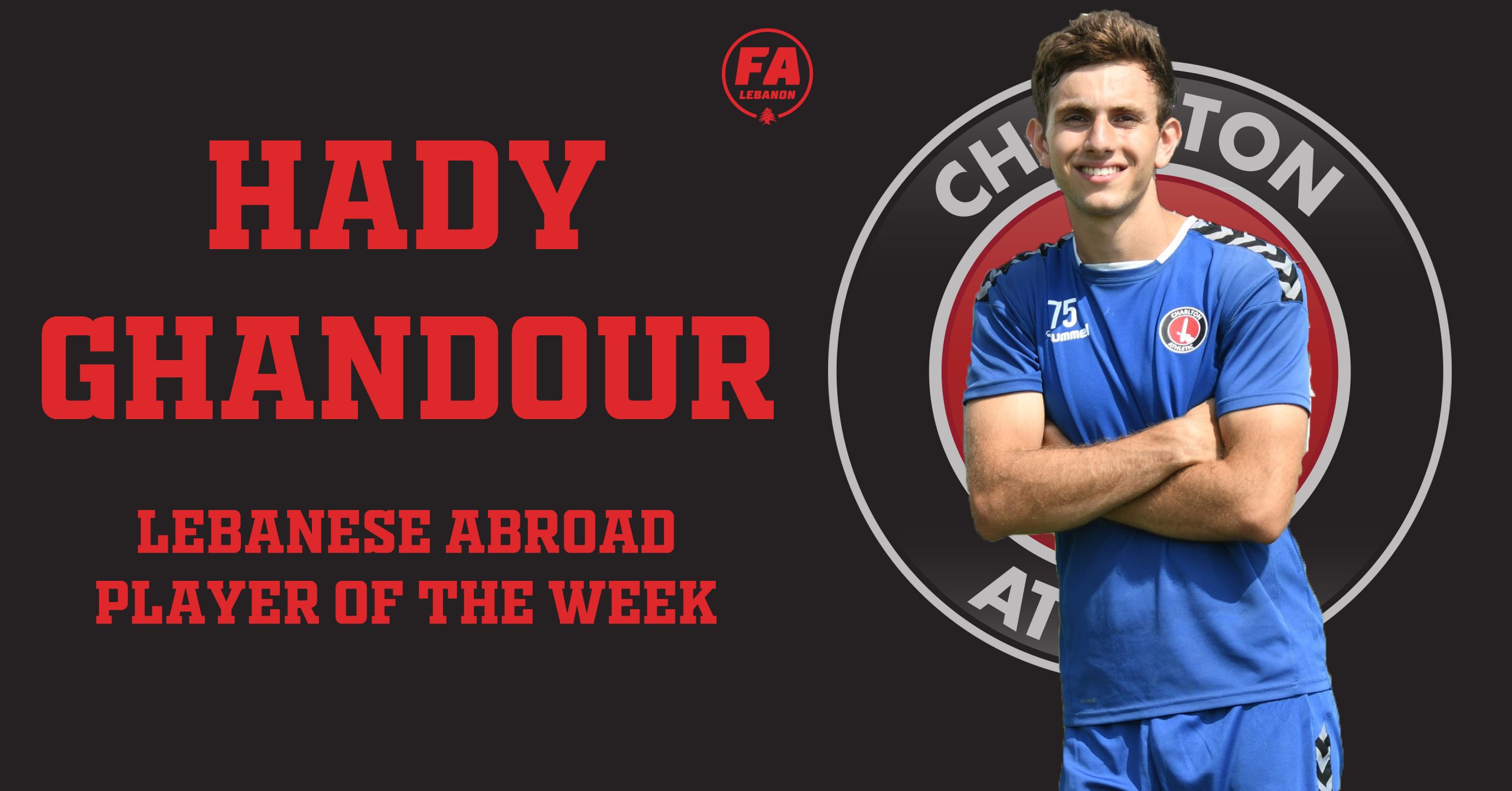 Hady Ghandour, Omar Bugiel, Hussein Sharafeddine, Kassem El Zein, Majed Osman, Joan Oumari and Bassel Jradi all played this week
Player of the Week: Hady Ghandour.
Monday, November 30
England Professional Development (Round 10)
Hady Ghandour – Charlton Athletic U23
[Charlton Athletic 3-0 Bristol City]
Hady Ghandour scored his first goal for Charlton Athletic.
The way he scored the goal show his interesting potential. The Addicks website described it as follows: "brilliant solo effort from Hady Ghandour who beat three men before chipping the ball over the goalkeeper to secure a commanding lead for his side."
Tuesday, December 1.
English National League (Round 12)
Omar Bugiel Chaaban – Sutton United
[Woking 0-1 Sutton United]
Good news: Sutton United won away against a good side.
Bad news: Omar Bugiel got a red card in the middle of the second half.
Wednesday, December 2.
Armenian First League (tier 2 – Round 15)
Hussein Sharafeddine – FC Sevan
[Shirak 0-3 FC Sevan]
Good performance by Sharafeddine.
He deserves to play in a more competitive league.
Thursday, December 3.
Kuwait Premier League (Round 10)
Kassem Zein – Al Nasr
[Al Sahel 0-1 Al Nasr]
Al Nasr is the indisputable leader of the league. They are invisibles so far. They conceded only one goal.
The issue about the Kuwait league is the lack of media exposure. Unlike the Jordanian league, it's not easy to find a way to watch Kassem's games.
Saturday, December 5.
Jordan Premier League (Round 15)
Majed Osman – Ramtha
[FC Maan 1-2 Ramtha]
Ramtha are the indisputable third of the Jordanian League. They are only one point away of the second.
It's a very consistent team in which Majed Osman starts most of the games.
Majed's position and way of playing can be a good value for the national team.
AFC Champions League (Round of 16)
Joan Oumari – FC Tokyo
[FC Beijing 1-0 FC Tokyo]
FC Tokyo are out of the competition. Joan Oumari was imperial: 2 interceptions, 4 tackles, 6 grounds duels won out of 9.
Armenian First League (Round 16)
Hussein Sharafeddine – FC Sevan
[FC Sevan 3-1 Ararat II]
FC Sevan are now ranked second!
1.HNL (Round 2)
Bassel Jradi – HNK Hajduk Split
[HNK Hajduk 1-2 Split HNK Rijeka]
Bassel Jradi played the full game. It's not an easy season so far for Hajduk Split!