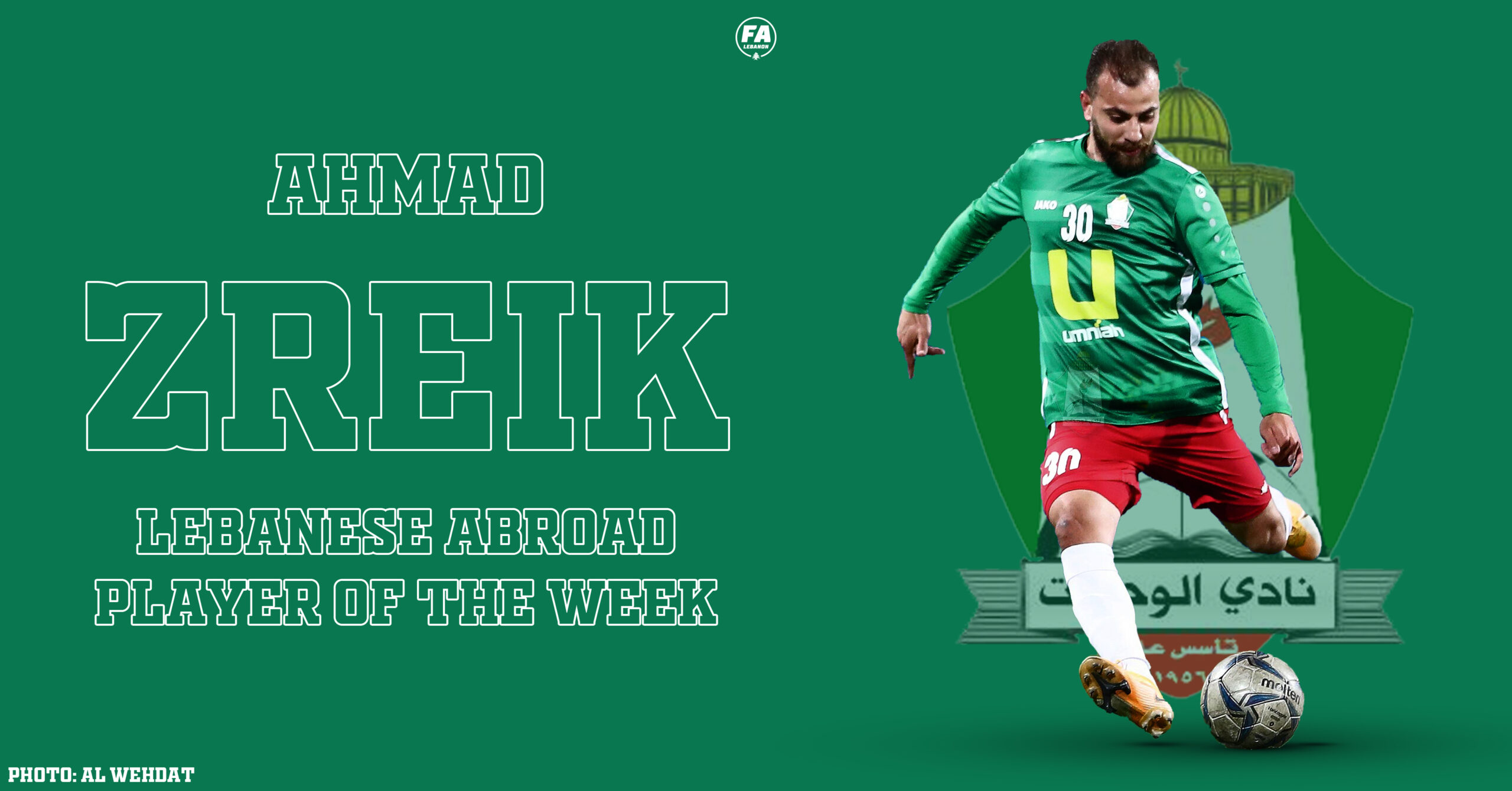 Player of the Week: Ahmad Zreik
Kuwait Premier League, Kuwait (tier 1 – Championship Group Round 5 and 6)
Kassem Zein – Al Nasr
[Al Arabi 1-0 Al Nasr]
[Al Sahel 1-3 Al Nasr]
Al Nasr lost first place after a narrow defeat against Al Arabi. The battle for the first place (AFC Champions League) and the second place (AFC Cup) is so far between 4 clubs: Al Arabi, Al Nasr, Al Qadsiya, and Al Kuwait.
National League, England (tier 5 – Rounds 18 and 29)

Omar Bugiel Chaaban – Sutton United
[Sutton United 3-2 Bromley]
[Sutton United 0-0 Wrexham]
Sutton United started the week with the 4th win in a row.
Omar Bugiel Chaaban didn't score or provide an assist but he was a key player according to the club's match report: "The best effort came from Bugiel, who was a real threat in the second half and who dispossessed Billy Bingham before advancing to hit a low 20 yard shot which was pushed round the post by Cousins."
In the next game, they failed to win but they are now a real contender to a direct promotion place.
Iraq Premier League, Iraq (tier 1 – Rounds 21 and 22)

Mohammad Kdouh – Amanat Baghdad

[Amanat Baghdad 1-1 Al Shorta]
[Al Naft 1-1 Amanat Baghdad]
Mohammad Kdouh scored this week his second goal in the Iraqi Premier League against Al Shorta, ranked 3rd ! It was a challenge for him to play in Iraq. He is showing that he is up to the challenge.
Jordanian Shield Cup, Jordan (group stage)
Ahmad Zreik – Al Wehdat
[Wehdat 4-0 Maan]
Ahmad Zreik provided the assist for the first goal of Wehdat
Hilal El-Helwe – Faysali
[Ramtha 2-2 Faysali]
Hilal El-Helwe made his first appearance with Faysali and participated in the last minutes of the game against Ramtha. Majed Osman didn't play with Ramtha due to the fact that he came back to Jordan the day before the game.
And be ready for a Lebanese clash : Faysali will face Wehdat in the Semi-Final of the Jordanian Shield Cup!
J. League Cup, Japan (Group Stage)
Joan Oumari – FC Tokyo
[FC Tokyo 1-0 Tokushima Vortis]
Will FC Tokyo win the J League Cup the second times in a row? They started the campaign by a narrow win against a club newly promoted to the J. League. Joan Oumari played the full game
J. League, Japan (Round 2)
Joan Oumari – FC Tokyo
[FC Tokyo 3-2 Cerezo Osaka]
Joan Oumari played the second half. It's the first win of the season for FC Tokyo. We were happy to see the picture of Joan Oumari in the streets of Tokyo !
NPL Victoria, Australia (tier 2 – Round 2)
Port Melbourne Sharks – Omar Ammache
[Bentleigh Greens 2-3 Port Melbourne Sharks]
Omar Ammache played 55 minutes. First win of the season for his club!
Svenska Cup, Sweden (Group Stage)
Mohammad Ali Dhaini, Trelleborgs FF
[Trelleborgs FF 3-1 IF Llode]
Mohammad Ali Dhaini was a starter. Trelleborgs FF qualified to the quarter-finals of the Svenska Cup. Another good news for Dhaini who was called up to join the national team in Dubai in order to face Jordan and Kuwait.
Felix Michel Melki – AIK
[Hammarby IF 2-3 AIK]
Felix Melki replaced Eric Kahl in the minute 83. It's few minutes but it means a lot : Felix Melki is fully back with AIK. But the bad news is that AIK are out of the Svenska Cup following this defeat.
Malaysia Super League (Round 1) and Super Cup, Malaysia
Rabih Ataya – Kedah
[JDT 2-0 Kedah]
The game between JDT and Kedah was the opening game of the Malaysian Super League and at the same time the Super Cup game between the champions and the runners-up of the previous season.
Against the best team in Malaysia, Ataya made two key passes. Kedah fans expect a lot more from him, but he needs time to adapt.
Malaysia Super League, Malaysia (Round 1)
Abou Bakr Al Mel – UITM FC
[UITM FC 1-2 Terengganu]
Bako was decisive. He started the action which leaded to the opening goal of the game. Bako was close to score twice. It's a good start but he needs to be less individualistic. Like Ataya, he needs time to adapt.
Bahrain Premier League, Bahrain (tier 1 – Round 11)
Yahya El Hindi – Budaiya
[Al Muharraq 3-0 Budaiya]
Second defeat in a row with the same score for Budaiya: 3-0. Yahya played 75 minutes.