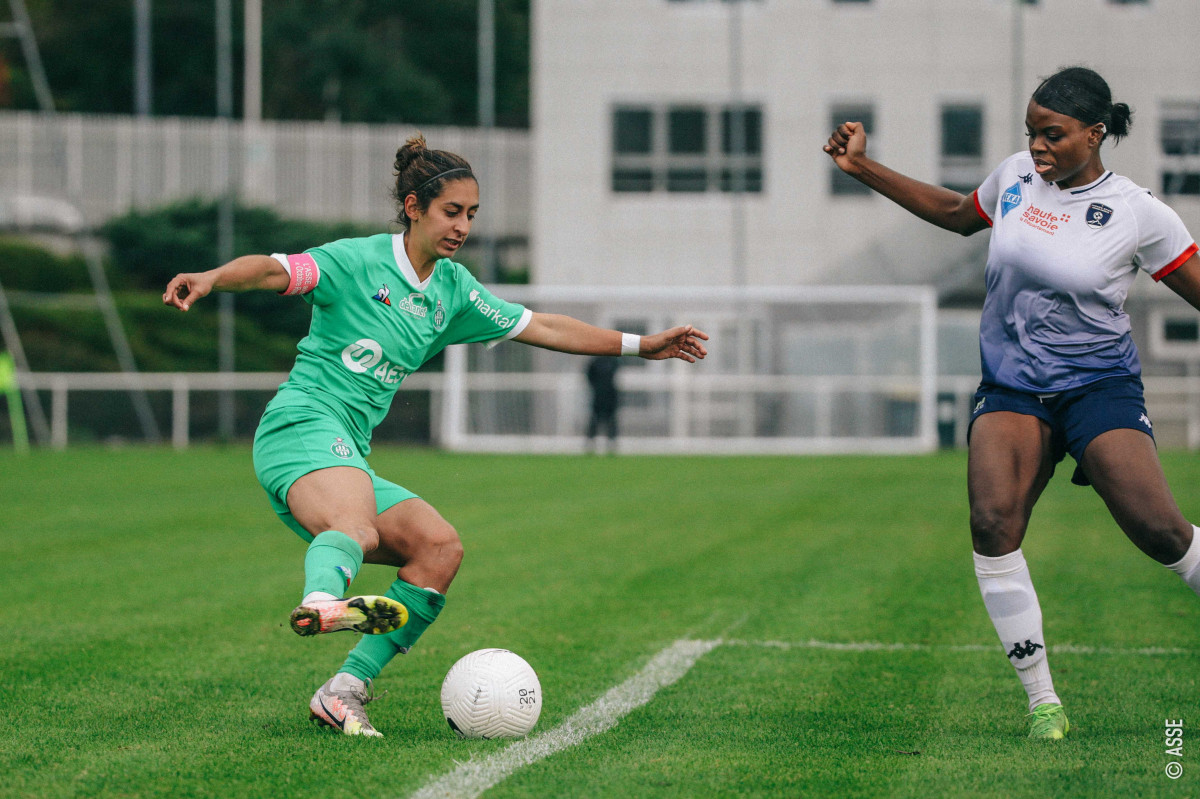 ​Long has the Lebanese football scene been seeking international resources to help in developing the local game.
​
The senior men's National team was coached for several spells by foreigners – you might remember Theo Bucker and his team's heroics in a 2-1 win against South Korea back in 2011. The men's NT has always been on the hunt for Lebanese players abroad to include in the squad and elevate it.
Players from European and Asian leagues have lately been making a huge impact on the Cedars' performance, while the women's team, despite their impressive results, have been left unnoticed and underfunded.
​However, a recent light has been shown on a player that could be a turning point in the women's National team's narrative: A.S. Saint Etienne's originally Lebanese, Canadian-born striker, Pilar Khoury.
​Born and raised in Ottawa, Canada, the striker was brought up through the ranks of Canadian youth and college football leagues, before finally reaching France's top divisions.
Khoury inherited her love for the game from her grandfather Louis Saad, also a competitive Lebanese footballer, and began to play during her childhood.
At 10 years old, the Saint Etienne forward joined a youth football club in Ottawa called the Gloucester Hornets, where she would spend the next seven years.
Although currently a striker, Khoury mostly played as a defender at the beginning of her competitive club spell. "I had to work really hard to show that I should play forward because I love scoring goals."
Her hard work eventually paid off during her last year with the Hornets, where she finally got the chance to play up front.
That final season was the cherry on top of a successful youth career, when she was recruited by the University of Ottawa.
Much like her time with the Hornets, Khoury began playing with the university's football team at the back but was later able to convince the coach of her position as a forward.
A rough start and two benched seasons later, the 26-year-old finally made a breakthrough in her university career.
The next three years saw her break the university's scoring record twice and top the ranks with several individual awards, all while completing a bachelor's degree in health sciences with a minor in psychology.
Khoury's knockout performance in university football landed her the opportunity to be a part of one of the world's top women's football leagues: France's Division 1. The striker signed for southern French side ASPTT Albi in 2016, and so began her professional football career.
"When I got to France it was the same story all over again!"
The transition from a university league to Europe's first division was far from smooth as the former Albi player found herself mostly benched for the first half of the season.
However, things quickly took a turn for the better during the next half of the league, where Khoury became a regular for her former club on the field. "Coming into Division 1, the level was much higher. The more I played, the more I improved and saw a difference in my game."
This helped secure Albi another season in the top division, but weekly matches, daily trainings, and studying for a second college degree took a toll on the striker and overwhelmed her with injuries.
After her former club's relegation, Khoury decided to have a fresh start in Division 2 and moved to Grenoble Foot 38 for the 2018/19 season.
The forward was off to slow start with her new team, scoring once in the first half of the season, but made up for that by adding another 10 goals in the next 10 games, appealing to the interest of Division 2 runners up A.S. Saint Etienne.
Signing in 2019 and despite her difficulty to get minutes in last season, Khoury still held Saint Etienne's highest ratio of time played to goals scored, bagging 6 goals in 7 matches.
"This year [2020/21] I'm looking to come back stronger, get more minutes in, and hopefully do even better."
Rightfully so, as the striker already has 4 goals to her name after the first 6 matches of the season, and Saint Etienne currently sit on the top of the league table with 18 points.
Khoury has also been working on getting a UEFA coaching license and has recently validated her UEFA B level. In addition to being a regular in their matches, she has also begun coaching at the club.
Even though the forward's football journey has been full of achievements, she aspires for at least one more: A National Team call up.
"It's the opportunity that everyone is waiting for. For me, playing for your country would be the biggest achievement."
Although born Canadian, Khoury feels closer to her family's Lebanese culture, and has dreamed of playing for Lebanon from a young age.
The Saint Etienne player is familiar enough with the current National team squad to recognize that it is young and full of potential. She believes that her experience in international leagues, as well as her work ethic, can really benefit the team.
If given the chance to join the Lebanese National team, Khoury would not hesitate to agree, and is determined to contribute to the Cedars' journey to the higher ranks of the international football scene.
"If I can be a part of that with even a small role, that would be amazing."